Newborn babies can be posed in various beautiful, safe, and comfortable ways for their little bodies. I studied newborn anatomy and newborn soothing, and in general, if a baby looks uncomfortable in a photo, then we feel uncomfortable looking at it. Also, babies that are not happy will not sleep well or be able to be put in a pose.
Photographers put babies in the most popular poses during a newborn photo session.
Wrapped Poses
This is where your baby is wrapped like a little burrito, all snuggled up. This is commonly used in the following shots.
• The potato upright pose
• The tower with stars or flowers
• Siblings on the flokati rug
• The sleepy bed birdseye
• Bowl/Bucket birdseye
• Parent/Family poses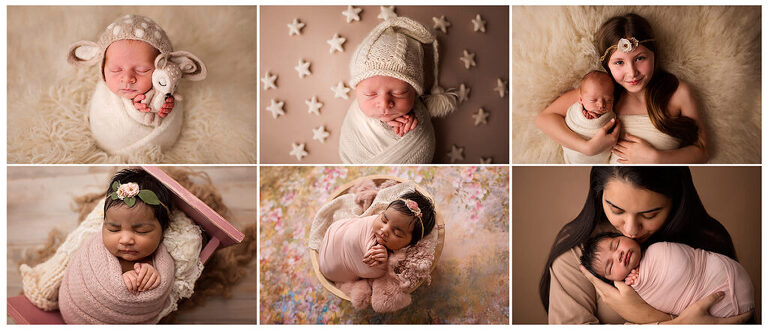 Semi Wrapped
These poses take a little longer as the little one exposes more of their body—cute arms and feet to be adored, but the bottom is covered up still. These are available in Classic Sessions.
• Bucket Pose
• Bowl/ Basket
• Unicorn/Horse
Naked Bean Bag
These sweet poses take a little longer and require a very sleepy baby. Exposing all their cute dimples and rolls are among most people's favourite poses, with variations in each pose.

• Tushy up
• Side sleeper
• Womb/Taco
• Facing Forward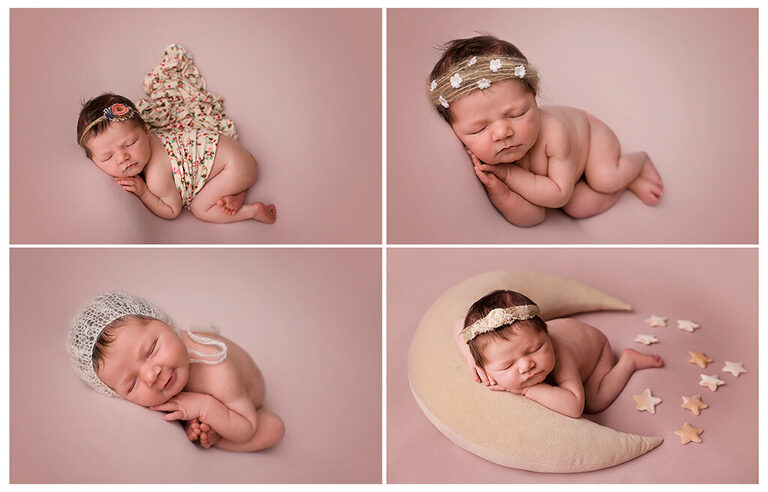 Speciality & Extras
Little chair poses and poses like the Froggy and skin-on-skin with a parent are lovely. These take either more time in post-production (froggy is a merge of two images) or more time posing for safety. Macro images are gorgeous and should be requested, as a specific lens is used for these magical close-ups and takes a little more time. Understandably some photographs cannot or will not do some of these poses as not all work with an assistant.
• Little Chair
• Macro
• Froggy
• Siblings with a prop